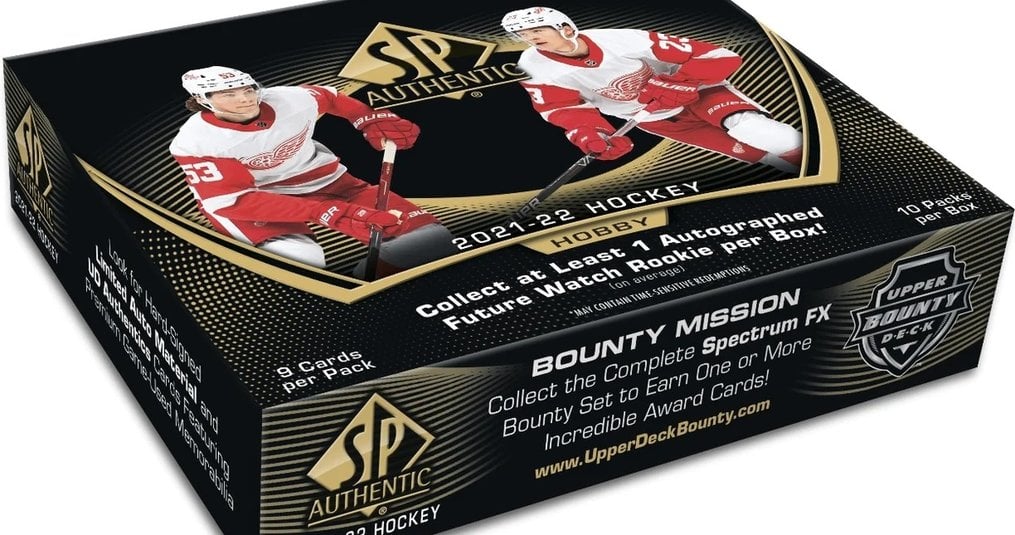 2021-22 UPPER DECK SP AUTHENTIC HOBBY BOX releases Wednesday, April 19th.
Stop in to pick up your box at 101-995 Milt Stegall Drive, Winnipeg, MB, we open at 9:30 am.
NO pricing will be given online, please Private Message us or call the store at 204-775-9631
Thanks to the Future Watch (FW) rookies and a large selection of on-card autographs, 2021-22 SP Authentic Hockey remains one of Upper Deck's most popular card brands.
Although the Hobby box format gets an update, switching from 18 packs of five cards to 10 packs of nine cards, the total card amount is unchanged. Each box still averages one Future Watch autograph and one additional autograph.
2021-22 SP Authentic Hockey Base / Parallels
Covering 100 veterans, the 2021-22 SP Authentic Hockey checklist starts with a small base set.
These add an expanded selection of Limited parallels plus Limited Auto (1:60 packs) editions.
2021-22 SP Authentic Hockey Future Watch Rookies
Joining the base cards, 2021-22 SP Authentic Hockey also features the very popular Future Watch Rookies (#/999) subset. These, too, come as unsigned Limited parallels.
Honoring a past design are the unsigned 2001-02 Retro Future Watch (#/900) and SP Limited parallel (#/150) cards.
With the hard-signed Autographed Future Watch cards, a "Debut Date" inscription accompanies the first 50 cards in the print run (#1/999 to #50/999).
In addition, look for several hard-signed auto-patch Future Watch cards, including Future Watch Auto Patch (#/100) and 2011-12 Retro Future Watch Auto Patch (#/99 or less)
While every box averages at least one on-card Future Watch card, the second autograph can also be an FW card.
2021-22 SP Authentic Hockey Inserts
As for the inserts, new sets include Pageantry (1:2 packs), SP Die-Cuts (1:5 packs) and SP Top Rookies (1:3 packs).
Another debut is the short-printed SP Holofoils (1:160 packs), utilizing hologram technology.
2021-22 SP Authentic Hockey - Other Autographs
Mixing in a few new sets along with familiar lines, the signed hits from 2021-22 SP Authentic Hockey continue in 2001-02 Retro Base Autographs (#'d), Immortal Ink (#/10), Marks of Distinction (#/25), Pageantry Auto (1:67 packs), SP Chirography (1:320 packs), and UD Authentics Autographs (1:80 packs).
Another favorite is the long-running Sign of the Times. Please note that the Sign of the Times 3, 4, 6 and 8 cards aren't hard-signed.
Combining the on-card autographs with game-used memorabilia are Limited Auto Material (#/100 or less) and UD Authentics Auto Patch (#/49 or #/25).
2021-22 SP Authentic Spectrum FX Bounty Program
Once again, the UD Bounty program plays into the Spectrum FX series. Any collectors that redeem the 99-card set earn the exclusive #100 card.
If you are among the first 50 to do so, the additional spoils include the entire 100-card Gold parallel (#/50) and two surprise bonus cards.
Estimated Release Date: April 19, 2023
Product Configuration: 9 cards per pack, 10 packs per box, 16 boxes per case
2021-22 SP Authentic Hockey Hobby Box Break Average
1 Future Watch Autograph and 1 Additional Autograph
At least 1 Spectrum FX Bounty Card
1 #'d Base, #'d Insert or Rare Tech Insert
8 Limited Base Red Parallels
7 Pageantry Inserts
10 inserts/parallels from: SP Die-Cuts, True Leaders and/or SP Top Rookies